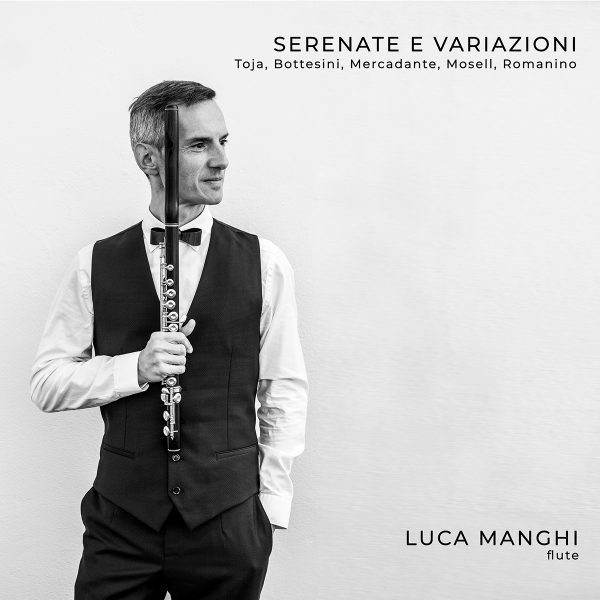 Luca Manghi: Serenate e Variazioni
Il progetto Sonate e Variazioni creato dal Flautista Luca Manghi include un percorso musicale che racchiude interessanti opere di Toja, Bottesini, Mercadante, Mosell, Romanino.
Tutte fanno parte di quel repertorio ottocentesco strumentale per ensemble ridotti utilizzato per intrattenere un piccolo pubblico aristocratico in occasioni particolari e imitando forme orchestrali più grandi, in particolare l'ouverture e la sinfonia. 
Allo flauto solista vengono uniti archi o qualche fiato per donare maggiore profondità all'orchestrazione.
Documento di uno stile e di un'epoca, questo album racchiude brani che non è frequente ascoltare, ma di notevole interesse e valore musicale che ci permettono di assaporare appieno l'abilità del solista e una cantabilità tipicamente italiana.
***
The project Sonate e Variazioni created by flutist Luca Manghi presents a musical journey listing interesting works by Toja, Bottesini, Mercadante, Mosell, Romanino.
All compositions are part of that nineteenth-century instrumental repertoire for ensembles used to entertain a small aristocratic audience on special occasions and imitating larger orchestral forms, in particular the overture and the symphony.
Strings or a few winds join to the solo Flute to give greater depth to the orchestration.
Document of a style and an era, this album contains pieces that are not frequent to listen to, but of considerable interest and musical value that allow us to fully taste the skill of the soloist and a typically Italian cantability.
Interpreti:
Luca Manghi, Flauto
Maurizio Trapletti, Clarinetto
Quartetto Fonè:
Paolo Chiavacci and Marco Facchini, Violini
Chiara Foletto, Viola
Filippo Burchietti, Violoncello
Lorenzo Gabellini, Contrabbasso
Andrea Leasi and Claudio Carta, Corno Francese
Tecnici: Carlo Cantini
Registrato al Teatro "Bonifazio Asioli" a Correggio, il 9 – 10 – 11 Aprile 2019.
tracklist
Giovanni Toja (19th c.): 
Serenata in Re maggiore per flauto, due violini, viola, violoncello.
01. Allegro
02. Andante
03. Allegro
04. Rondò. Allegro
Pietro Bottesini (1792 – 1874): 
Introduzione, Tema e variazioni per flauto, clarinetto e quartetto d'archi.
05. Andante
06. Tema, Andante – Variazione I, Allegro assai – Variazione II, Allegro – Variazione III, Andante minore – Variazione IV, Allegro
Mercadante Saverio (1795 – 1870):
07. Variazioni sul Tema Là ci darem la mano dall'opera Don Giovanni di W.A. Mozart per flauto, violino, viola e violoncello.
Egisto Mosell (1787 – 1852): 
Tema con Variazioni per flauto con accompagnamento di due violini, due corni, viola, violoncello e basso.
08. Adagio – Tema, Allegretto – Variazione I – Variazione II – Variazione III – Variazione IV, Più Adagio – Variazione V, Primo Tempo – Pollacca
Camillo Romanino (1803 – 1863): Serenade per due violini, viola, flauto, clarinetto, violoncello e contrabbasso.
09. Allegro – Andante grazioso – Allegro – Più mosso
Giovanni Toja (19th c.): 
Serenata in Sol maggiore per flauto, due violini, viola, violoncello.
10. Allegro
11. Andante
12. Scherzo. Tempo di Valtz
13. Allegro agitato
[72:50]
available in
Digital format

streaming links
download
credits
℗ & © & 2020 Amadeus Arte
Cat. No. AA20010
www.music.amadeusarte.com